About the 1964-1988 GM A/G bodied cars
Here is a list of the makes/models eligible for the club. A bodies were made from '64-'77, G Bodies from '78-'88
>BUICK A BODY-Skylark/GS/GSX
>BUICK G BODY-Regal/Grand National/GNX/T-Type/Turbo-T
>CHEVY A BODY-Chevelle/Malibu/Monte Carlo/El Camino
>CHEVY G BODY-Malibu/Monte Carlo/El Camino
>GMC A BODY-Sprint
>GMC G BODY-Caballero
>OLDSMOBILE A BODY-Cutlass/442/Hurst-Olds
>OLDSMOBILE G BODY-Cutlass/442/Hurst-Olds
>PONTIAC A BODY-Tempest/Le Mans/GTO/Grand Prix/Can Am
>PONTIAC G BODY-Tempest/Le Mans/Grand Prix
Those are the majority of the cars. If you have a question about A or G bodies, or want to know if your car is eligible for the club, drop me a line, and I'll get back with you as soon as I can.
E-mail the club!
Membership Info
To become a member of the Indy GM A/G Body Car Club, print out a hard copy of the membership form and send it to the address at the top of the form. WE ACCEPT NEW MEMBERS TO THE CLUB ALL YEAR ROUND! The club fee is 5 dollars per year. The contacts to the club are on the contacts page.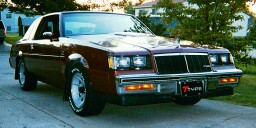 Active Members & Their Cars
>>Tim Witter-member #1-'80 Chevy Malibu wagon
>>Larry Vaughn-member #2-1986 Buick Regal T-Type
>>Jon Witter-member #3-'68 Buick Skylark/'87 Buick Regal Turbo-T

>>Chris Kranich-member #4-1983 Chevy Malibu Sedan

>>Chris Reed-member #5-1982 Buick Regal 455

>>John Larkin-member #6-1987 Buick Grand National

>>Tony Taylor-member #7-1984 Buick Grand National w/N.O.S.

>>Tom Brown-member #9-1987 Buick Grand National

>>Josh Borga-member #10-1987 Buick Regal Turbo-T

>>Larry Benefield-member #11-1987 Buick Grand National

>>Paul Ward-member #14-'85 Buick Grand Nat'l/ '78 Chevy ElCamino/ '70 Buick GS 455

>>Rick Joest-member #15-'86 Buick Grand National/ '87 Buick Grand National

>>Bill Moller-member #16-1987 Buick Grand National

>>Rick Raisor-member #17-1980 Chevy Malibu coupe

>>Scott Marley-member #19-1976 Olds Cutlass Supreme

>>Aaron Rode-member #22-1970 Chevy Monte Carlo

>>Lee Hansen-member #25-1981 Chevy Malibu wagon

>>Steve Nelson-member #26-1984 Buick Grand National

>>Ken Pote-member #27-1979 Chevrolet ElCamino

>>Tom Yeager-member #28-1976 Chevrolet Malibu

>>Terry N. Lamey-member #29-1984 Oldsmobile Hurst/Olds

>>Ron Richardson & Sheri Bowron-member #30-1967 Pontiac LeMans

>>Joe Niesse-member #31-1986 Oldsmobile Hurst/Olds

>>Clarence Craig-member #32-1971 Chevy Chevelle SS convertible
>>Joe Clarke-member #33-1978 Chevy Malibu
>>Fritz Moser-member #34-1987 Oldsmobile Cutlass
>>Ian Solomon-member #35-1977 Pontiac Grand Lemans